ParaWild Frog Eyes on Rollerblades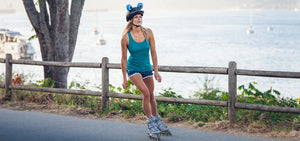 Place:
Vancouver, BC, Canada
Favourite Outdoor Activity: Surfing
Favourite Animal:
 Dolphin
As busy ParaWild co-founders, we (co-founders Adele and Natalia), are always out looking for beautiful spots for photoshoots with our 
line of helmet accessories
 (and no shortage of amazing locations in beautiful British Columbia...;) !!!).  We were out shooting along the lovely
Kitsilano beach
in
Vancouver
a
 when a friend of a friend, Shayla, just happened to skate by on her rollerblades!  Shayla was all smiles and agreed to do a little modelling for us (lucky us!).  She picked up the
Dardo the Frog Eyes
in blue out of our latest
Endangered Animals 2017
Collection and she definitely took them to a new level.  Every photo we took of Shayla was stunning as the sun was setting over the beach!  We shot with the Canon 5D Mark III and 70-200mm Canon lens wide open. Later on, we learned that Shayla is an accountant and we ended up booking a consultation with her to get some help for our business.  Isn't it lovely how photography and the love of animals can bring people together and allow us to make new friends?
Leave a comment
Comments will be approved before showing up.