ParaWild Accessories in Action! Hélio in Flame Mohawk!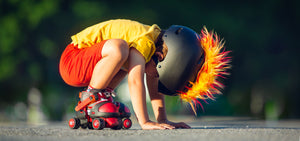 Hélio, 3.5 years
Place: Vancouver, BC, Canada
Profession: toddler, discovering the world from puddles to worms and drawing!
Favourite Outdoor Activity: Climbing and Hiking. 
Favourite Animal: either cat or cheetah. He is always playing like he is either one of those. He loves cheetah because they run super fast. 
Interesting Fact: "We went hiking and try the Hollyburn hike thinking we would go back when he would get tired... he went all the way to the top and back, chatting all the way and climbing every time he could! It's an 8K hike with 450m elevation." - Mom 
Don't get me wrong - I always enjoy a walk down the iconic
Vancouver Sea Wall
. But when I get to combine it with another of my passions - photography, I'm in heaven!  A few weeks ago,  I was joined by my friend and her young 'model' son named Hélio for a little photoshoot along the seawall. Now photoshoots with children can certainly be a bit of a challenge but
Hélio 
was an absolute pleasure to work with! His interest was immediately piqued when I offered him his pick from the ParaWild helmet accessories from the 2017
Endangered Animal Line
. He went straight for the
red/orange mohawk
design inspired by the marine iguana (and my inner photographer was delighted that it also happened to match his shorts and shirts...;)).
Hélio 
was happily occupied with his favourite sports, rollerskating and skateboarding while I snapped away (results below!).  Funny enough, his Mom had to fight him later to take his helmet off! I shot this with my trusty Canon 5D Mark III and 70-200mm 2.8 lens opened up wide. Photos were shot by
Natalia
and edited by
Adele
(both co-founders of Parawild.com)
Leave a comment
Comments will be approved before showing up.